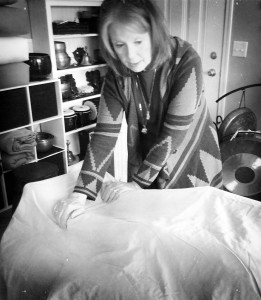 Upcoming Classes
Sound Therapy for Highly Sensitive People
IT'S BEEN DETERMINED THAT approximately 20 percent of the general population is born with the trait of high sensitivity but navigating in a world that caters to the other 80% can prove challenging. Have you ever considered yourself highly sensitive? Do you know someone or live with someone who is?
If you'd like to learn more about this trait and how sound can help you cope, consider attending WWSH's 5-class series: Sound Therapy for Highly Sensitive People (ST4HSP).
Offered in the Spring and again in the Fall, it meets twice a month on Sunday afternoons.
It was developed for those individuals who identify as sensitive and want to learn positive ways to navigate their world more comfortably. This informative class will focus on the HSP trait, the basics of Sound Therapy, and how the two can be integrated for the most beneficial outcome. This is also a great class series for professionals who work with Highly Sensitive People, are themselves Highly Sensitive People, or know someone with that trait. Interested individuals should send inquiries via the website.
Wind Willow Sound Health Certification Classes
Beginning and Advanced Sound Therapy classes are offered in modules at the beginning of each year. Monthly classes meet on weekends and may initially be virtual during inclement weather/cold/flu season. A Certificate of Completion is awarded per level. Graduation certificates are awarded upon successful completion of all requirements. WWSH classes teach basic as well as proprietary techniques to those professionals who desire the addition of sound therapy to enhance their existing businesses, as well as those individuals who wish to use basic sound therapy for personal use.
Wind Willow Sound Health is currently acquiring a waitlist for the upcoming 2024 classes. Please note it's not too early to get on the mailing list – class size is limited to enable students the benefit of one-on-one instruction. Classes will begin mid-February. Inquiries may be made through the website. Please submit inquiries through the website.
About Sound Therapy
SOUND THERAPY IS GAINING popularity as a viable option to enhance existing health practices and aid the patient/client in obtaining better healthcare. Because of this, there is a growing need for credible sound therapists, especially in the Midwest.
Wind Willow Sound Health LLC offers virtual and in-person classes that teach basic and proprietary techniques and includes original textbooks exclusive to Wind Willow to aid student comprehension. Keeping class size small enables the student to receive one-on-one instruction.
Classes are primarily targeted toward healthcare professionals who desire the addition of sound therapy to enhance their existing businesses.
Students may also include individuals who wish to use basic sound therapy for personal use.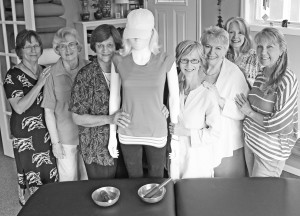 The first Wind Willow Sound Class graduates, 2016.
What Wind Willow Sound Therapy students say
"Your classes have changed my life!"
"Thank you, Julie. I finally found my passion – sound therapy!"
"It's nice to be in a class with so many like-minded individuals. Thank you, Julie, for bringing this opportunity to our community."
"Now I'M putting people to sleep with the deep relaxation techniques you taught us!"
"I look forward to continued education classes with you, as you learn and develop new techniques."
"What I liked about Julie Chase's Sound Classes
She provides students with informative lectures with ppt (PowerPoint) & handouts.
She gives options. Items to purchase, place, Discounts, choices are hard and so it's helpful to practice… and she encourages folks to "make it your own."
Gives a basic protocol upfront… It's a great way to see the flow of points
She gives handouts with great info! And references for students to return to…. and she's constantly revising the handouts.
These comments are all based on my years of personal experience, self-study, reading & attending professional trainings.
Immersion in a new idea or technique is difficult and Julie helps students to do so comfortably.
She mixes lectures with knowledge from experience.
She demonstrates how she continues to learn herself…. always a good role model.
She exposes students to self-exploration, guiding them to look at history as realizing connections.
She strives to help the student develop ideas of confidentiality and professionalism through examples.
She addresses music and discusses business aspects of a sound therapy practice.
She is conscious of and respectful in what she does and encourages others to be the same. — Su Cutler, 2019
•••
Endorsed by Wind Willow Sound Health
• World-renowned Sound Healer and Tuning Fork Pioneer John Beaulieu, N.D., Ph.D.
• Certified Tibetan Bowl Sound Healer and Teacher Diane Mandle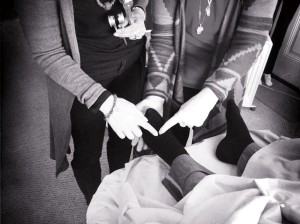 Julie demonstrates a technique to a student.