Wind Willow in the news
Recently Encore Magazine featured Wind Willow Consortium in a story about the benefits of sound therapy.
The story points out:
While many people are aware of the positive impacts of music therapy, sound therapy is a newer practice in this country. Using instruments like Tibetan singing bowls, medical-grade tuning forks, gongs and RAV Vast drums, a sound therapist plays tones with the intention of slowing down a client's brainwaves to create calm in the mind, encourage stress reduction and facilitate healing within the body.
Sessions continue to be offered in 'live' phone sessions
Wind Willow Sound Health in-person individual sessions moved to "live" phone sessions during the month of March and continue to be offered to clients on an as-needed basis.
HOW'S YOUR STRESS LEVEL?
Did you know that sound therapy, as offered by Wind Willow Sound Health, is a great way to alleviate stress? In a non-COVID world, individual in-person sessions are the usual delivery of sound at Wind Willow Sound Health. Research now suggests the benefits aren't limited to live, in-person appointments. In fact, phone sound sessions can invoke similar stress-reducing benefits. And because there are no limitations to a brick and mortar office, Wind Willow Sound Health phone sessions are able to meet the needs of individuals around the country during pandemic restrictions. WWSH is Kalamazoo Community's leading resource in helping stress compromised individuals reach a deep state of relaxation through Sound Therapy, whether in-person or via the phone.
To set up an appointment, contact Julie Chase through the website.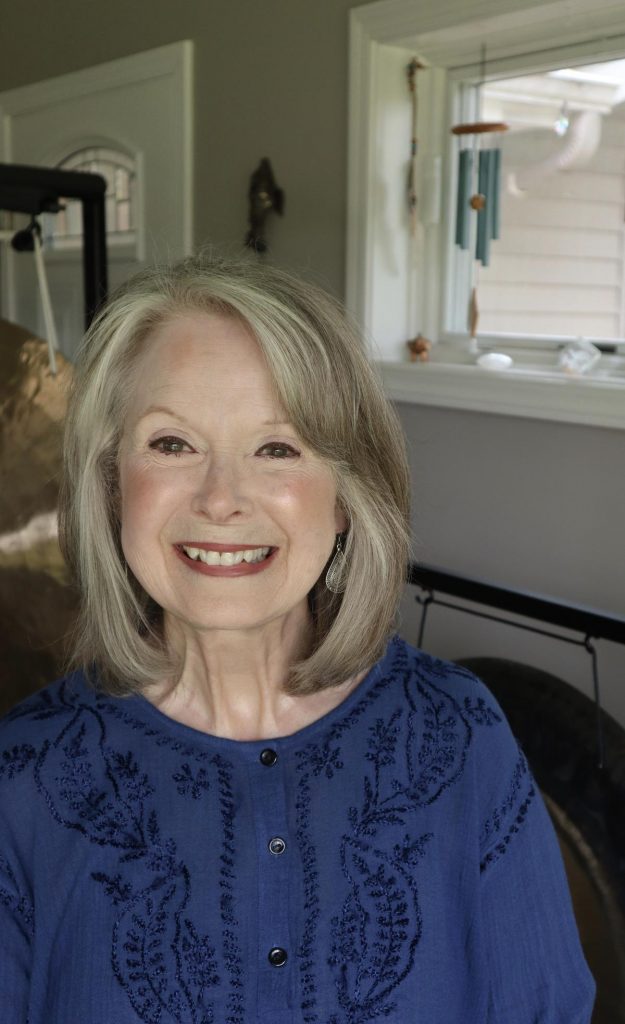 Wind Willow Sound Health featured on WMUK
Julie Chase recently had the opportunity to explain the research behind sound therapy when interviewed by Zinta Aistars on WMUK Art Beat. In a segment called "Sound And Stress," they talked about the benefits behind sound therapy and how it can reduce stress levels. WMUK's website offers an edited version as well as the full interview. Zinta Aistars (WMUK Art Beat) with Julie Chase
2019 Summer Solstice Gong Celebration
Interest continued to be high for Summer Solstice Celebration at the Down Dog Yoga Center, June 21, 2019. Julie Chase led those who came to the seasonal celebration to renew and relax through the deep vibrations of Sacred Gongs and other peaceful sound instruments.
Gongs at Down Dog Yoga Center
Those interested in learning more about the gong attended a workshop held at Down Dog on Saturday, May 15 led by Julie Chase.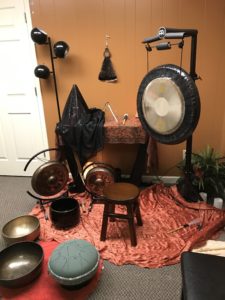 Tuned-In Meditation Class
The return of Tuned-In Meditation Class for Wind Willow clients will be announced in the future.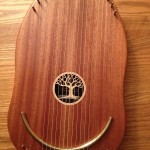 As a way to extend the benefits of sound therapy sessions, for new and current clients, Wind Willow is offering a once-a-month, one-hour meditation class at the new suite on Centre Street. This is an intimate setting for serenity and peaceful reflection. Tuned-In is an opportunity for self-care to those who desire a unique way to tap-in to their inner self. Participants sit quietly while various sound instruments carry them through contemplative tones, rhythms, and melodies to a place of reflection and relaxation without the distraction of verbal guidance. Space is limited. Reservations are required and must be made 24 hours prior to the start of each class. The meditation class is for new and current clients. Reservations are on a first-come, first-serve basis. Enroll early to ensure your reservation. Once capacity is reached enrollment will close for that class offering.
When: One Wednesday each month
Where: 1611 W. Centre Ave., Suite 103, Portage, Mich.
Time: 6:30-7:30 p.m. (Doors open at 6 p.m. There will be no admission after 6:30 p.m. when the meditation begins.)
Cost: $15 at the door. Cash or checks, please.
RSVP: 269-330-2366 or email here.
What meditation class participants say
"Looking forward to this sound healing treat."
"It was wonderful as always, Julie. One of my favorite ways to spend a Saturday afternoon."
"Julie is amazing. Go and experience this for yourself. You won't regret it."
"Thank you Julie for a wonderful sound meditation experience. I was mellow all day!"
A peek at our new space
Wind Willow Sound Health recently moved into the new suite at Nature's Dance Wellness Center. We are thrilled for the opportunity to expand into this beautiful new space where, in the coming months, more classes and offerings can be made available to our clients and community.
At the Healing Expo
Wind Willow Sound Health teamed with Natures Dance in March at the 2017 Healing Expo held at Wings Stadium in Kalamazoo, Mich. This was a great opportunity for us to introduce Sound Therapy to a broader community and we were excited to be invited to be part of this event. Great turnout and positive feedback made it a success. Thank you to everyone who stopped by to learn about Sound Healing.